There are two terrific giveaway events going on right now: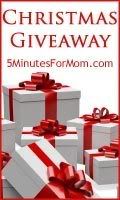 and


Go check out the fun. If you know of anymore giveaways. Leave a comment. :) I'll update this post as I come across more.

Updated to add:
A review and giveaway for toxic free cleaning supplies by Lily's Garden Herbals.

The Dorothy Apron from Carolyn's Kitchen have sassitude written all over them. For a chance to win one, check out The Apronista.

Need some stocking stuffers? Hazelnut Kids has sponsored a wonderful giveaway on My Two Boys.

Our Blessed Arrows is giving away some Baby Legs. These are great now that the weather has turned cold (and windy here).